RENESAS RZ/G2L OSM SoM Module
Geniatech SOM-G2L-OSM module using OSM-L standard, with LGA package. Based on high performance, lower power consumption, ultra-efficient processor RZ / G2L SoC, it use multi-core heterogeneous ARM Cortex-A55 + ARM Cortex-M33 MCU kernel, equipped with high-performance Mail-G31 GPU and various display interfaces. With rich industrial application interfaces, open board design data documents and open-source SDK, it can be widely used in industrial HMI, Human-computer interaction, industrial gateway, smart home, POS terminal, doorbell walkie-talkie, smart camera, bar code scanner, edge computing and other fields.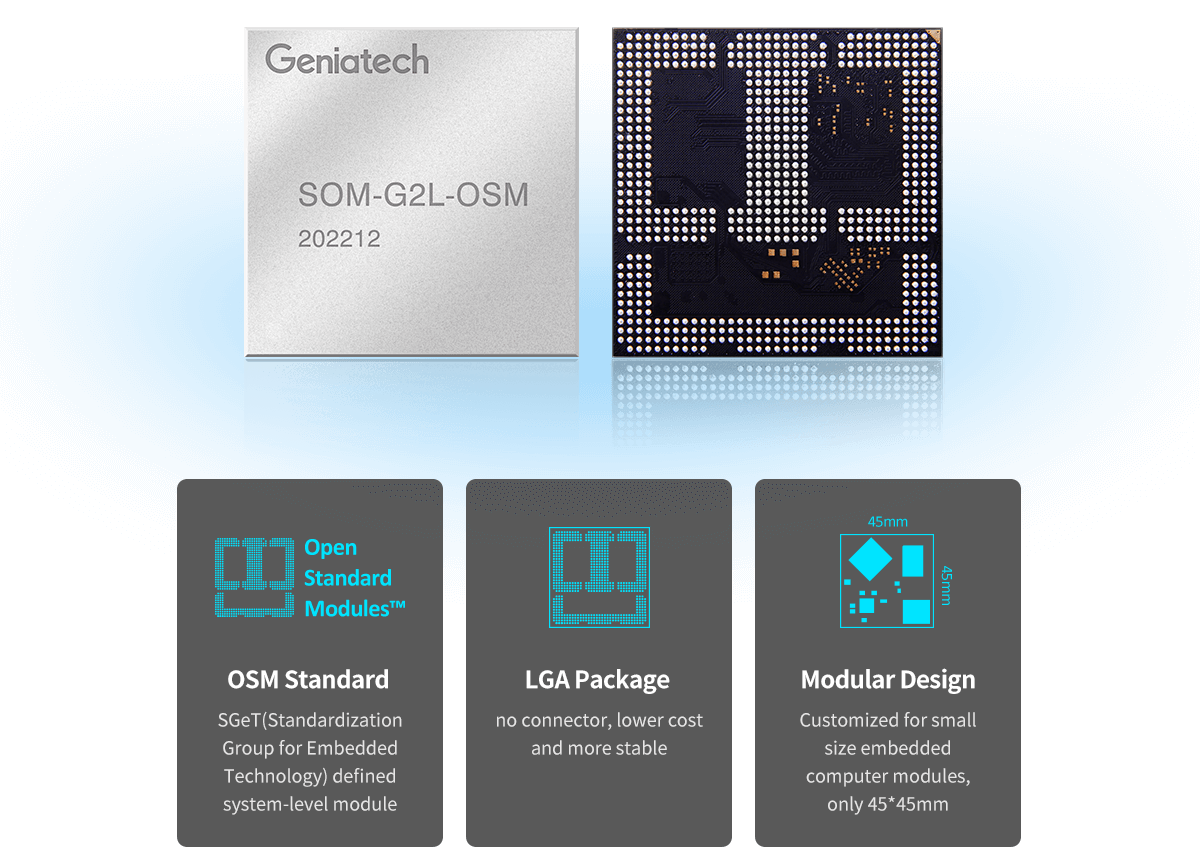 Open system architecture design, powerful software customization ability
It can provide comprehensive technical data including baseboard reference design data, supporting source code, technical documents, API interface and SDK development tools, making the secondary development more simple, convenient and efficient, and helping customers to quickly create independent and controllable customized products.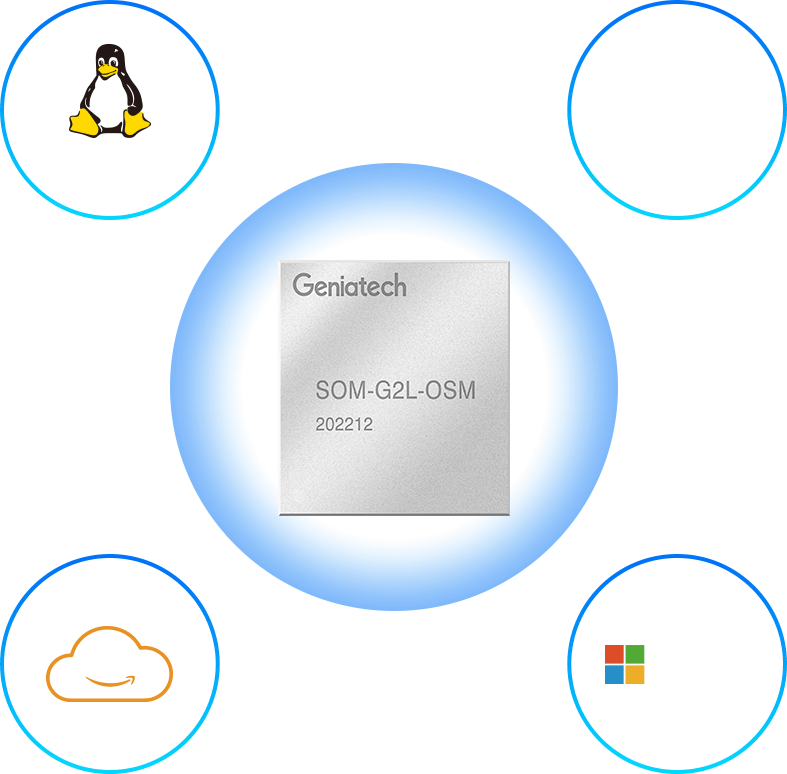 Provide complete technical documentation and can be efficient for secondary development
Using the mature, stable and highly expandable Linux 4.19 system, it can provide a complete set of software system customization services, including system kernel modification, driver transplantation, application development and UI customization, so as to provide a safe and stable system environment for product research and production. At the same time, it can be developed based on Renesas e²studio IDE software, which supports seamless connection with third-party platforms such as Amazon AWS and Microsoft Azure.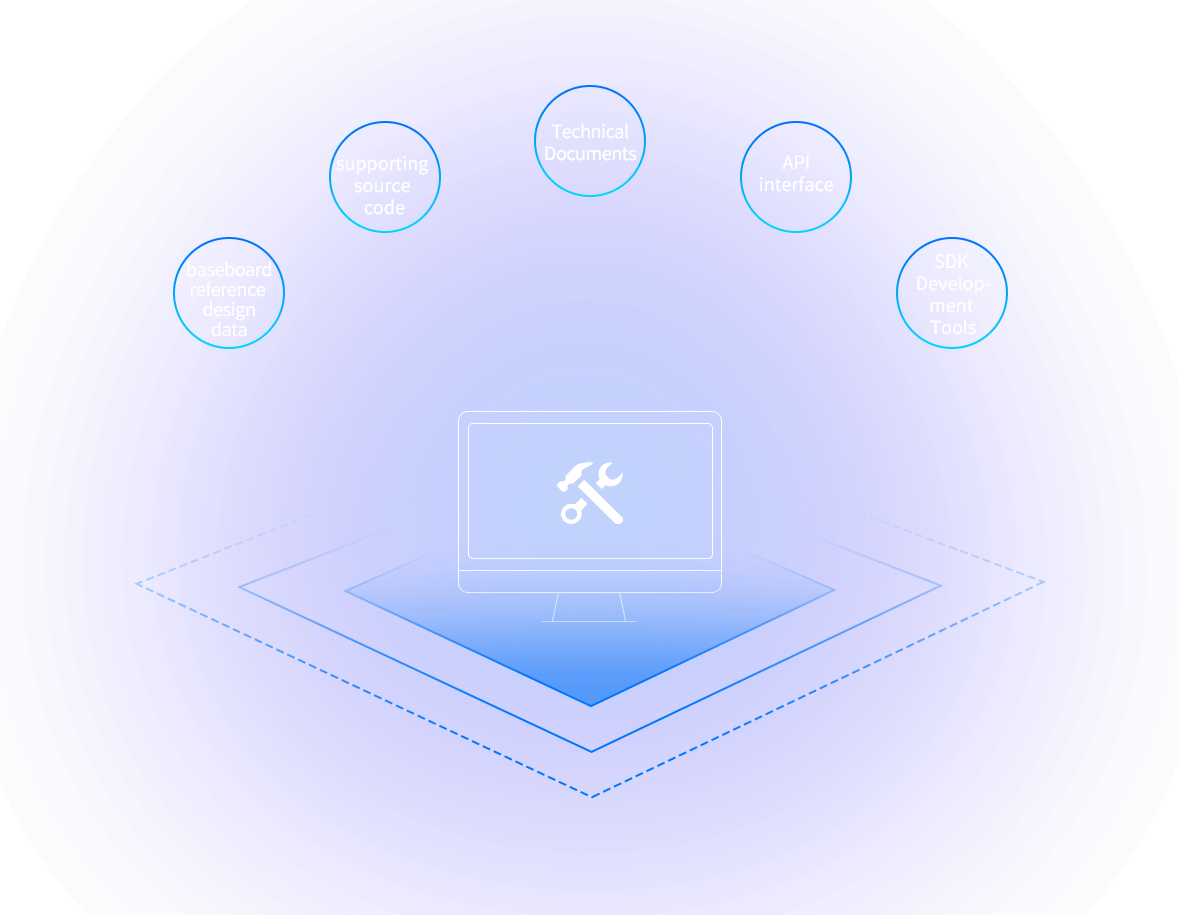 Industrial product standards, suitable for strict working environment
All components of the core board are designed with industrial wide temperature-40~85℃, with built-in watchdog and ESD electrostatic protection. They are tested and produced in strict process accordance with industrial standards to ensure 24*7 hours uninterrupted stable operation in a harsh outdoor environment, and meet the requirements of high quality and reliability of industrial applications.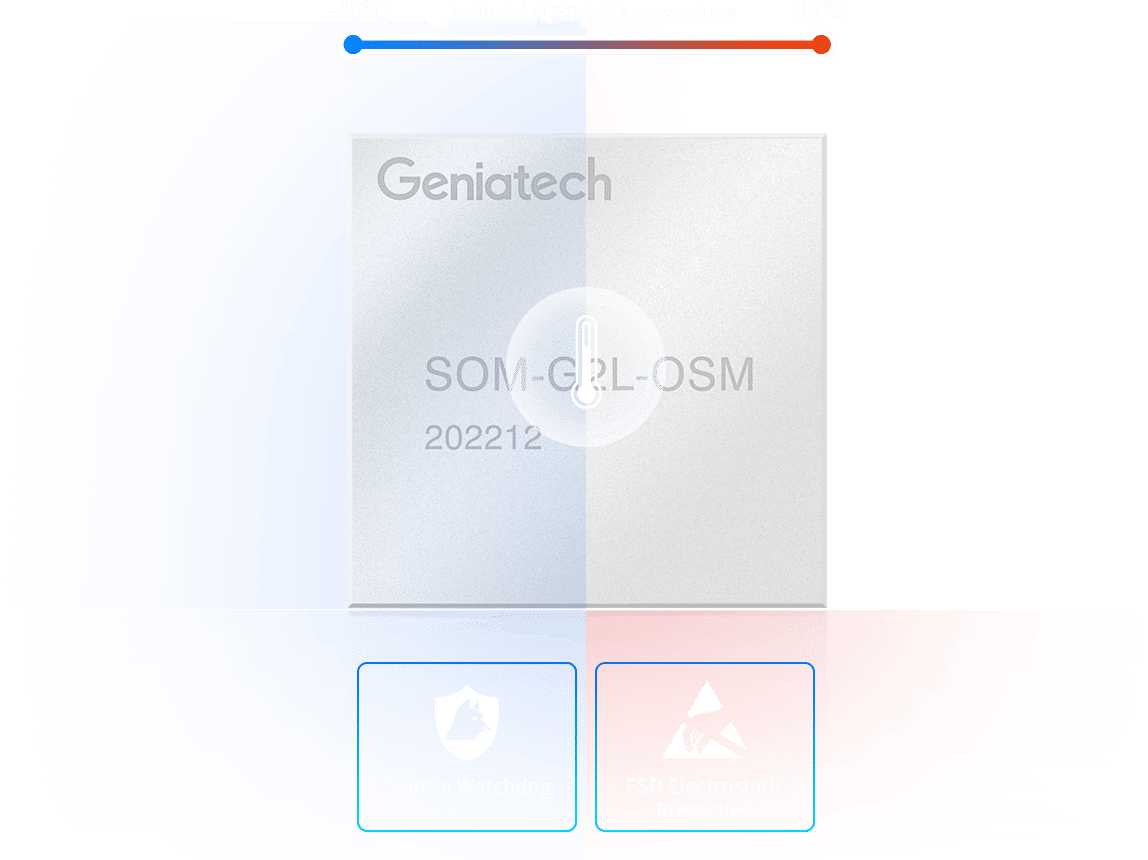 Rich peripheral interface, widely used in different industries
Up to 622 pins, it can provide rich peripheral interfaces for different industry applications, support 2 gigabit Ethernet interfaces, can extend Wifi and Bluetooth, and support UART, I2C, SPI, ADC, PWM, GPIO, USB2.0, MIPI CSI, MIPI DSI, RGB, I2S, RGM II, SDIO and other common extended interfaces.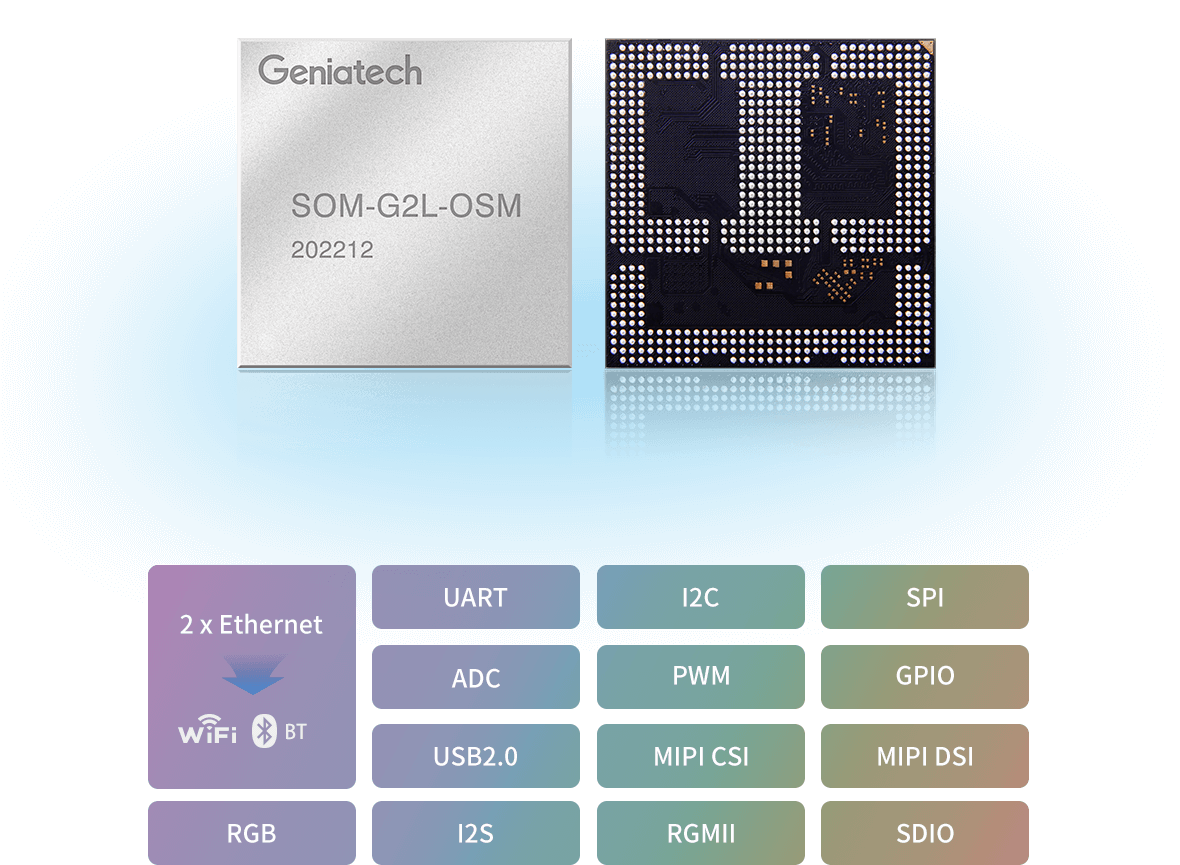 Rich audio and video interfaces, greatly improve the human-computer interaction experience
Rich audio and video and touch interface resources, it can provide extended support for display, audio and camera, meet the needs of high-definition display, human-computer interaction and image acquisition, support H.264 1920×1080@30 fps video decoding, and also have 3D GPU and video hardware codec VPU. Support Vulkan, OpenGL, OpenCL, greatly improve the human-computer interaction experience.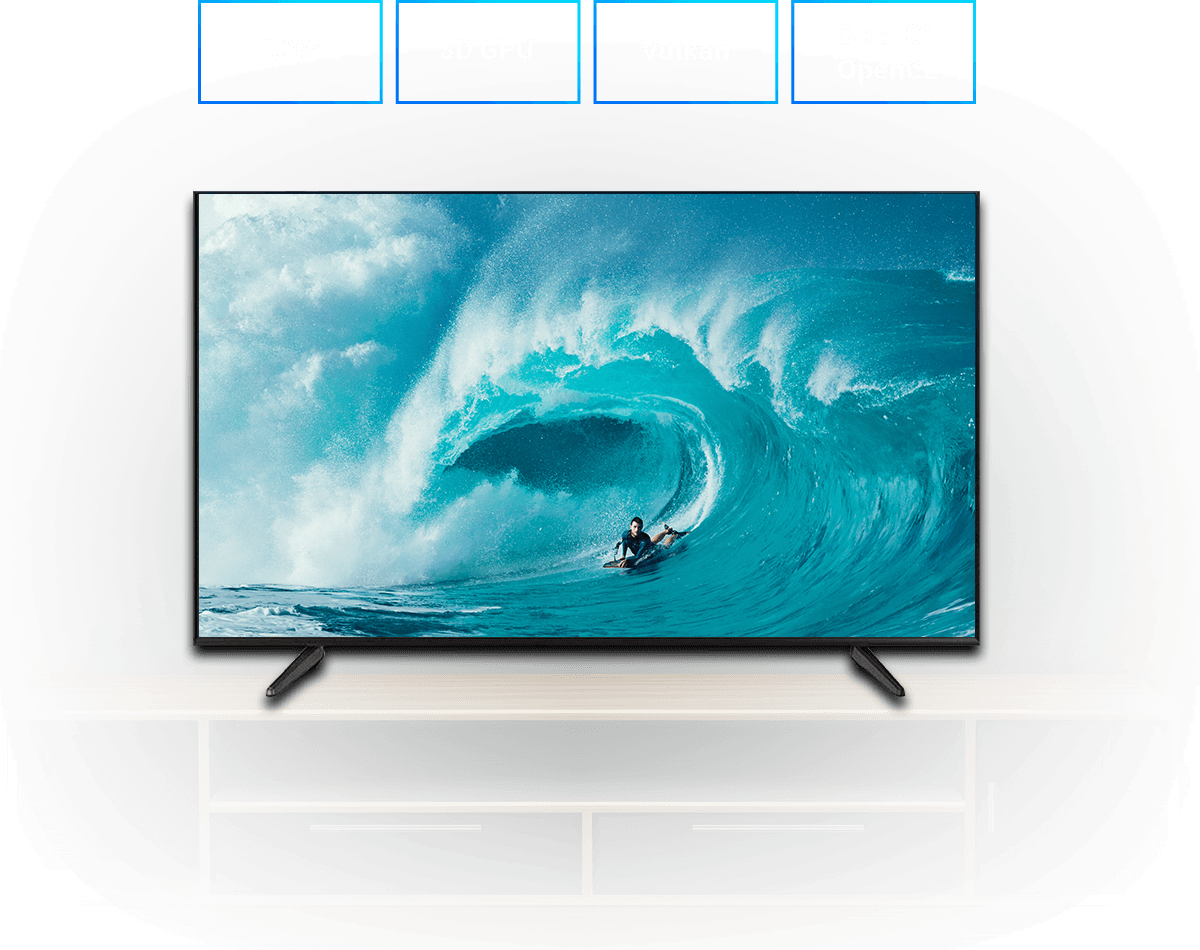 Renesas provides RZ / G2L processor with 10 years + ultra-long life cycle guarantee, and also provides ultra-long-term and traceable Linux Kernel maintenance, providing stable and traceable guarantee for the long life cycle of customers' products.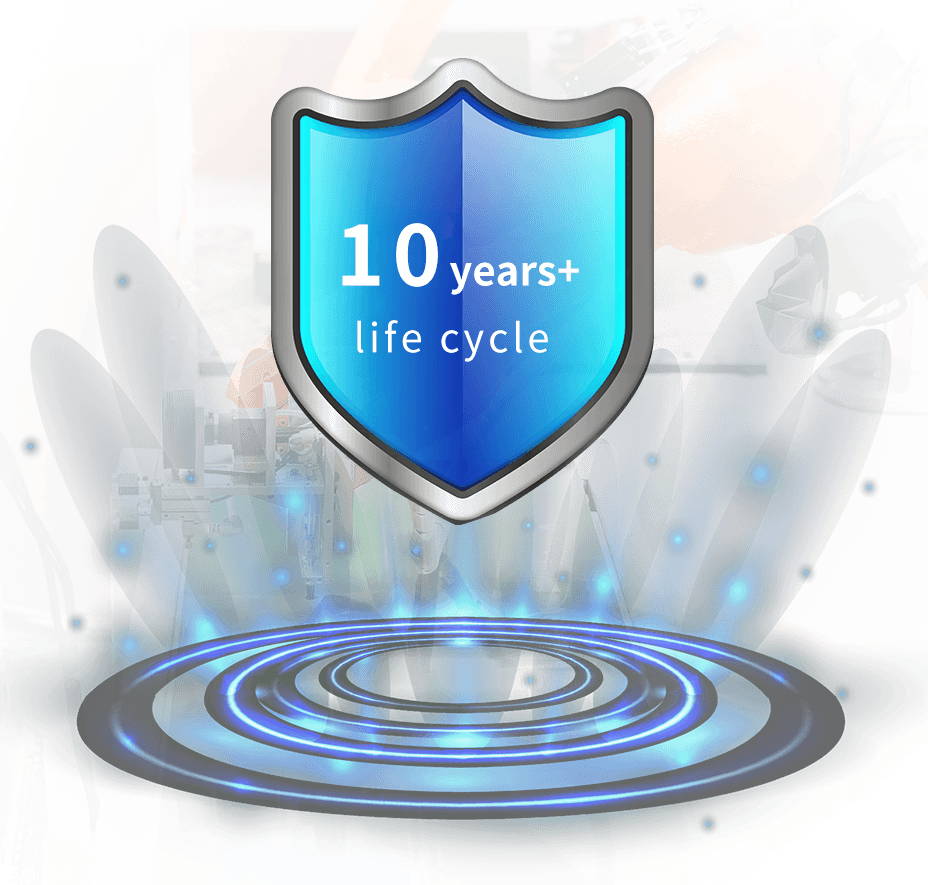 A full range of one-stop customization service
Geniatech has 25 years of technology research and development of ARM products and abundant partner resources, which can not only provide customized hardware but also cross-SOC platform operating system transplantation, BSP kernel tailoring and driver debugging, scenario-based application software development, overall system software testing services, perfect SDK secondary development interface and other one-stop consulting services. With our own production plant of nearly 30,000 square meters, it helps customers greatly shorten the cycle from product selection, research and development project approval, small trial production to mass production and delivery.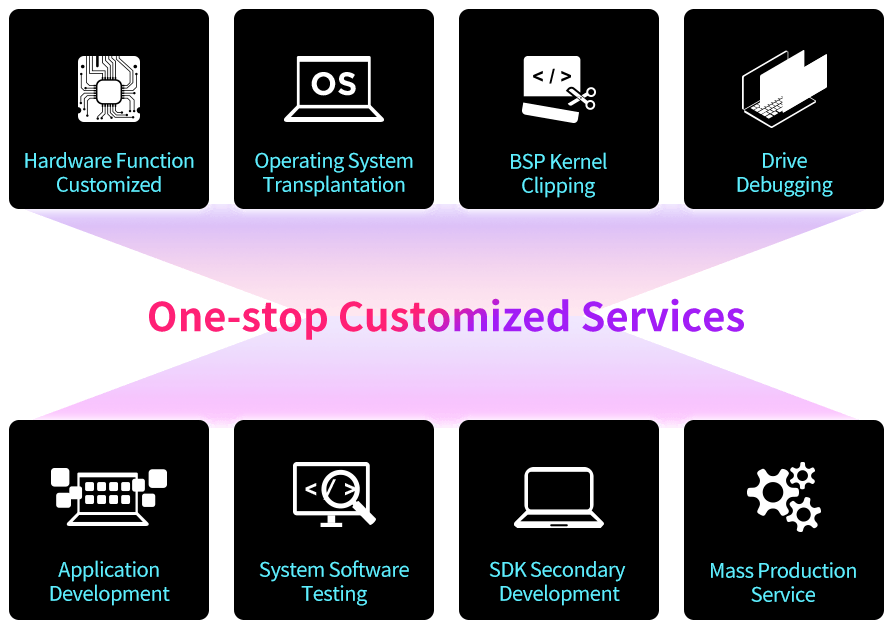 Application to audio and video entertainment device, intelligent security, intelligent medical treatment, industrial automation control, edge computing, vehicle central control system, energy and chemical industry and other application fields.