AI High Performance Industrial PC
APC3588 adopts Rockchip high-end 8nm flagship chip RK3588, can be equipped with up to 32GB of large memory, supports 8K video encoding and decoding, has a wealth of interfaces, supports Gigabit Ethernet, WiFi6, 5G/4G expansion and a variety of video inputs and outputs, -40~85°C wide temperature, and supports Android, Ubuntu, Debian, Buildroot, RTLinux and many other operating systems, which can be widely applied to industrial control computer, edge computing, artificial intelligence, cloud computing, blockchain, smart home, smart security, VR/AR and other fields.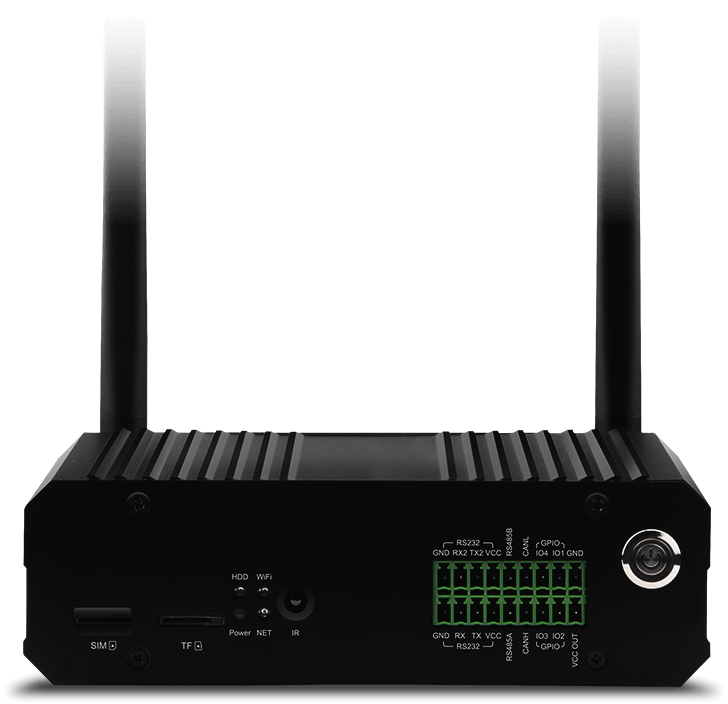 New generation of octa-core flagship processor
8nm advanced process, integrated ARM Mali-G610 MP4 quad-core GPU, supports 8K ultra HD video decoding, built-in 6TOPs AI NPU, supports mainstream deep learning frameworks, which can bring better performance for various AI application scenarios.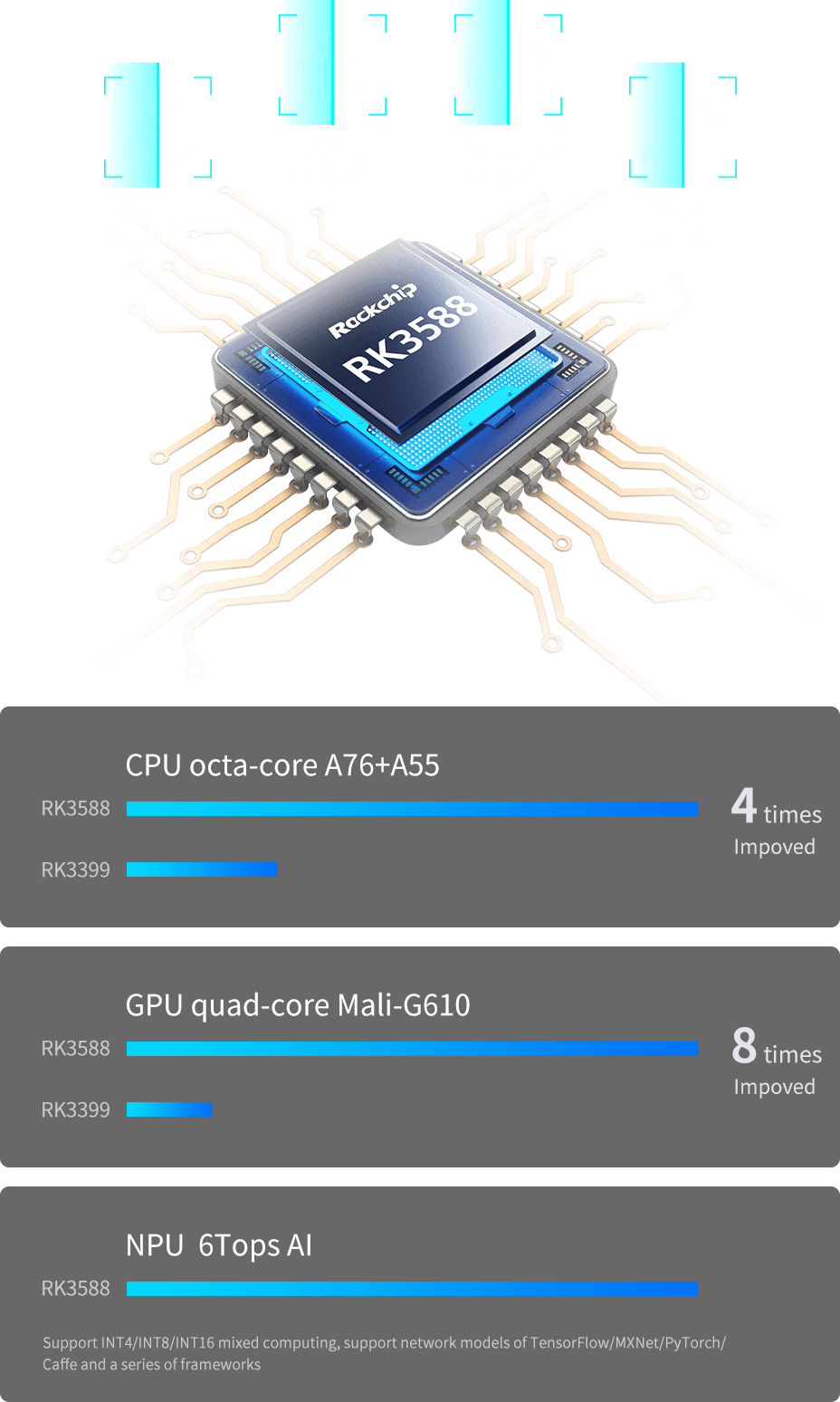 8K video encoding and decoding, high-definition multi-screen heterodyne display
Support 8K@60fps video decoding and 8K@30fps video encoding, support the same coding and decoding, can output multiple 8K videos through HDMI 2.1 and DP interfaces, and can realize 32-channel 1080P@30fps decoding and 16-channel 1080P@30fps encoding at the highest, and support multi-screen heterodyne display, which can be applied to various high-definition multi-screen interactive display scenarios.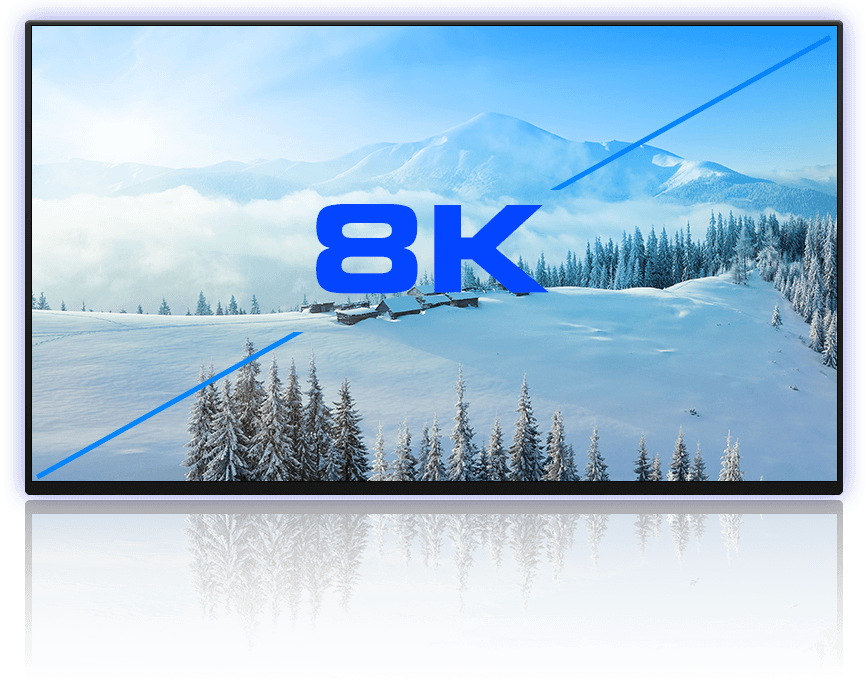 32GB large RAM, large-capacity storage expansion
Up to 32GB RAM, onboard M.2 PCIe2.0 interface, expandable SSD mass storage device, to meet the needs of large memory and storage applications.

Strong Expandability with Rich Interfaces
With 1 USB 3.0, 3 USB 2.0 and 1 DP (including Type-C), 1 HDMI 2.1 input and 2 HDMI output, 4 GPIO, 1 RS485, 2 RS232 or 2 TTL, 1 CAN and other expansion interfaces, providing a wealth of peripheral connectivity for different industry applications.
Put a product interface description diagram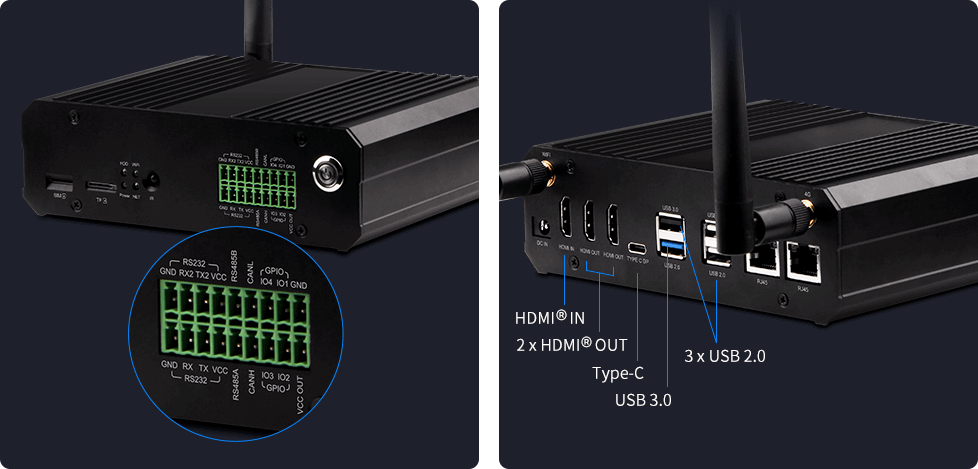 Superior network communication capability
On-board 1000M Ethernet interface, 2.4GHz/5GHz dual-frequency WiFi, reserved for 5G/4G LTE expansion, to achieve uninterrupted network access, users can flexibly choose the network access mode according to the site environment, to meet the network requirements of outdoor and indoor applications.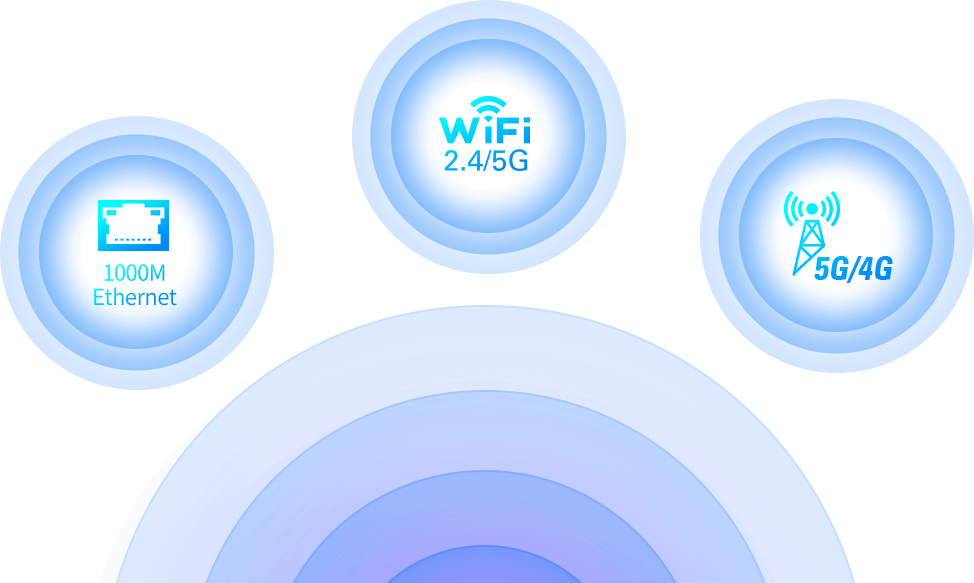 Industrial-grade hardware structure design
Adopting ultra-strong solid lightweight aluminum alloy material and integrated fanless structure heat dissipation design, it can be stably operated for 7×24 hours under -40~85°C environment, which is suitable for various harsh industrial use environments.
Open system architecture, support multiple operating systems
Support Android 12.0, Ubuntu 18.04 (Desktop and Server), Debian11, Buildroot, RTLinux kernel, can be based on the Linux system kernel depth of customization and development of the service layer, to achieve the remote upgrade and management of the device, which greatly improves the convenience of the later operation and maintenance and operation and maintenance efficiency.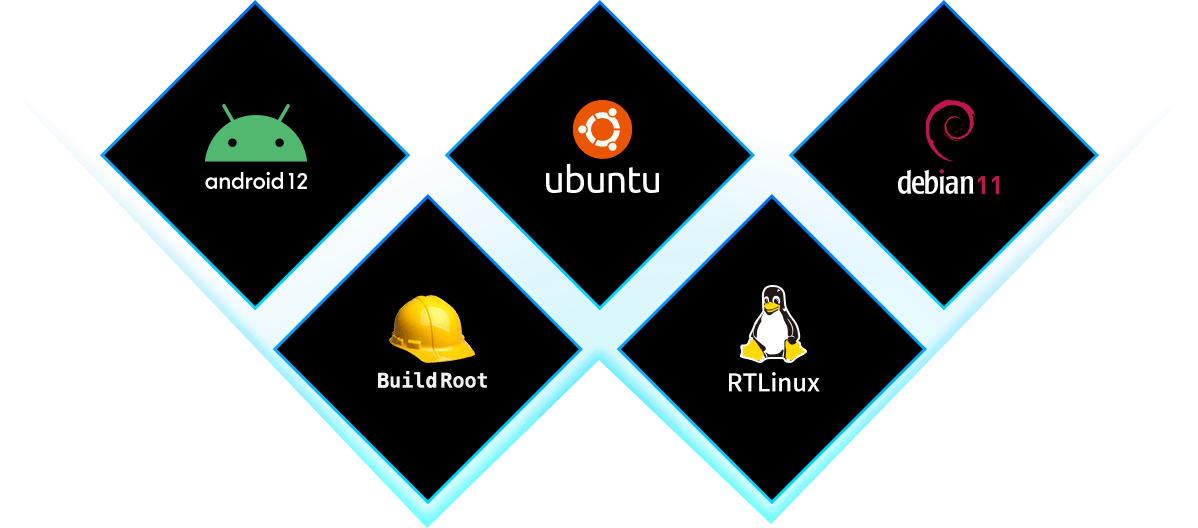 Ultra-long supply period, escorting the product's long life cycle
Provide 10 years + ultra-long life cycle protection, and at the same time provide ultra-long-term, traceable Linux Kernel maintenance, to provide stable and traceable protection for the long life cycle of customer products.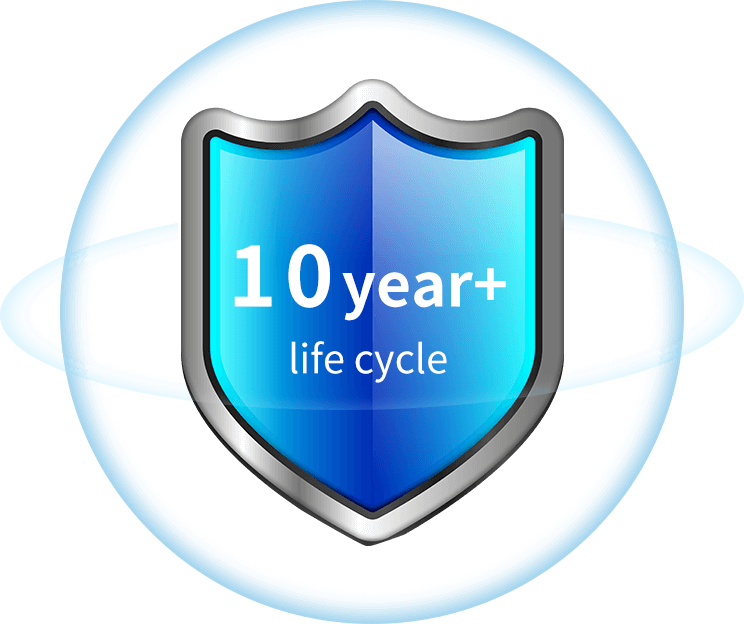 Provide complete technical data for efficient secondary development.
We provide complete technical data including baseboard reference design data, supporting source code, technical documents, API interfaces and SDK development tools, which makes secondary development easier, more convenient and more efficient, and helps customers quickly build self-controlled customized products.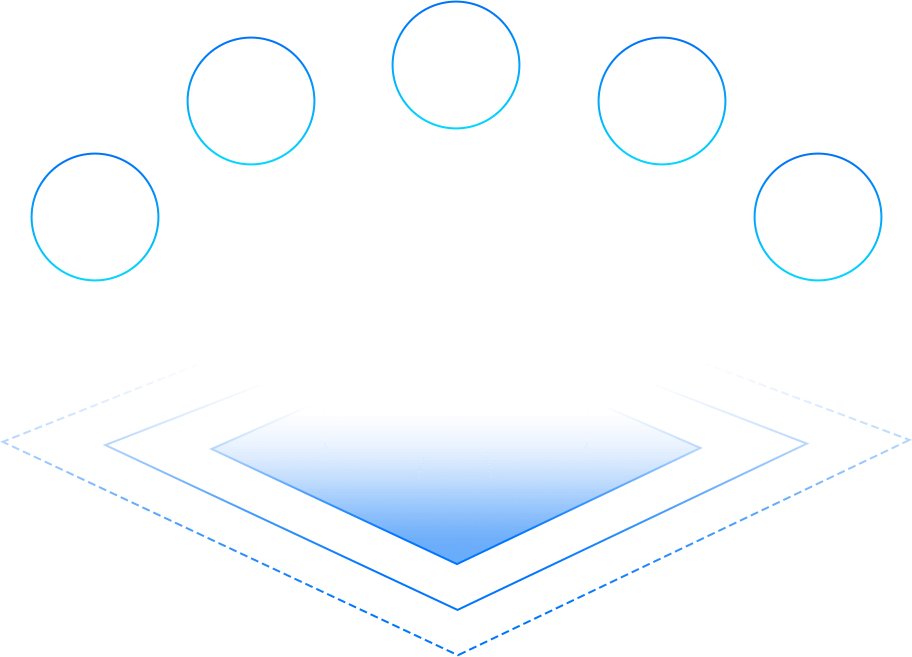 More than hardware, one-stop customization service
With 25 years of ARM product technology R&D precipitation and partner resources, Gold Asia Pacific can not only provide customers with customized design of hardware functions, but also provide one-stop customization services such as operating system porting across SoC platforms, BSP kernel cutting and driver debugging, scenario-based application software development, overall system software testing services, and perfect SDK secondary development interface, etc. With the help of the company's own production factory of nearly 30,000 square meters, we can help customers to greatly improve the quality of their products, and to improve the quality of their products. With the company's own production plant of nearly 30,000 square meters, we can help customers greatly shorten the cycle from product selection, R&D project, small trial production to mass production and delivery, and quickly seize the first opportunity in the market.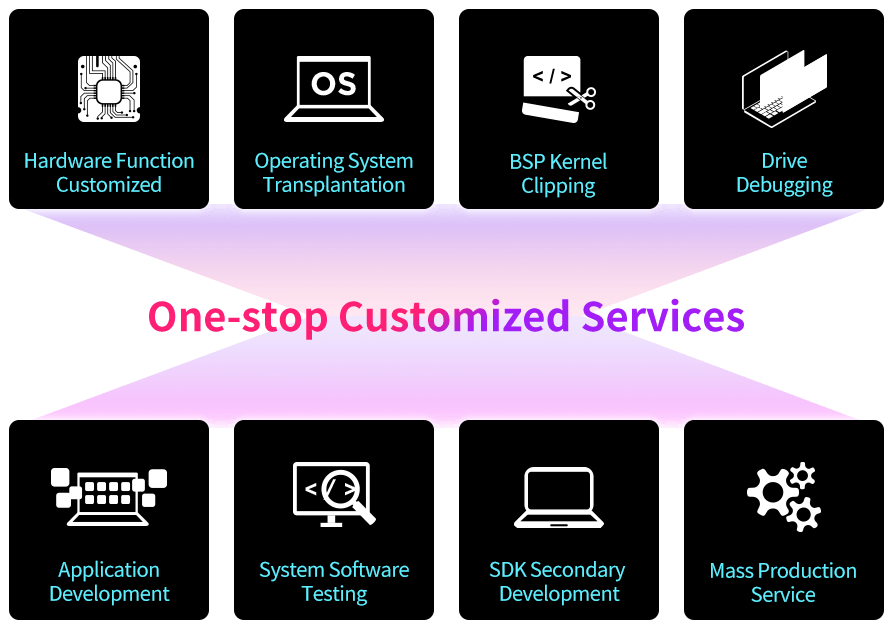 Widely used in edge computing, cloud computing, artificial intelligence, VR/AR, blockchain, intelligent security, industrial control, smart home and other fields.