High GPU Computing Performance
NVJ100AI/NVJ100AIX uses the NVIDIA Pascal™ GPU architecture with 256 NVIDIA CUDA® cores and up to 8GB of memory, and it provides 472 GFLOPS of computing performance for modern AI algorithms. It can run multiple neural networks in parallel and process multiple high-resolution sensors simultaneously, suitable for applications in the NVR and smart gateway space.

Optimized for visual AI, plug-and-play AI scalability,freeing CPU/GPU resources
High Efficiency and Low Power Consumption
NVJ100AI/NVJ100AIX can use 5 to 10 watts of power, running large deep neural networks on edge devices and achieving higher accuracy. Ideal for applications that need to deal with bandwidth and latency issues in real-time, with powerful and efficient AI, computer vision, and high-performance computing, you can innovate at the edge. Included are factory robots, commercial drones, and corporate collaboration equipment.
Provides 1* HDMI video output, 1* Micro SD card slot, 1* Micro USB, 1* 10/100/1000M network interface, and 4* USB 3.0 ports. Additionally, it provides multiple UART, RS232, and RS485 for the control of external equipment. Providing 3* M.2 interfaces, it can be used for expanded applications beyond 5G.
NVIDIA JetPack™ CUDA-X™ Software
NVJ100AI/NVJ100AIX provides NVIDIA JetPack™ CUDA-X™ software stack. The stack can be used to build breakthrough AI products for a variety of industries. JetPack includes the latest NVIDIA tools for application development and optimization, and supports cloud-native technologies like containerization and orchestration for simplified development and updates. In building industry-specific end products, Jetson developers can take advantage of a mature framework built on top of JetPack for better performance and scalability. These include NVIDIA DeepStream and Transfer Learning Toolkit for intelligent video analytics, NVIDIA Clara™ for healthcare imaging, genomics, and patient monitoring, and NVIDIA Isaac™ for robotics.
Geniatech Industrial AI IoT Solution Powered by NVIDIA®
As artificial intelligence (AI) becomes increasingly prevalent across a range of applications, Geniatech has developed the AI Product Series with NVIDIA. This series reflects Geniatech's deepening relationship with NVIDIA,NVIDIA has begun its strategic transformation into an AI IoT provider, and Geniatech's partnership with NVIDIA is taking huge steps towards making AI a reality for manufacturing, transportation, and smart city applications. Through close collaboration in AI product development and shared worldwide marketing programs, Geniatech and NVIDIA are driving innovative transformations for AI applications.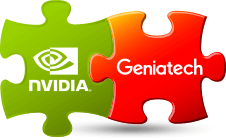 NVIDIA Jetson Nano™ Embedded
Rich interfaces help ease development
Support 4K video 4K@60fps and HD video and 7*1080p*60fps playback
Linux OS with BSP (board support package)
Supports deep learning trained models
Wide-operating temperature range
Supports H.264/MPEG4 cameras